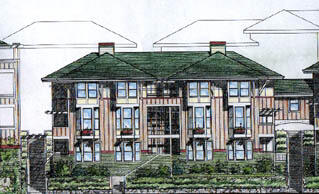 About Us
Jackson Place Cohousing (JPC) is a vibrant, well-organized, self-managed urban community. It was built in 2001 in a peaceful, green setting near downtown Seattle in a neighborhood that offers transportation by bus, bike, car, or walking. JPC is a well-established, family- and animal-friendly, multi-generational community. There are 27 homes, with approximately forty adults and twenty children, ranging in age from babies to people in their 80s.

The community is dedicated to creating and sustaining an environment where residents treat each other and our common spaces with respect, care, and consideration; we strive to create an atmosphere in which all residents can share in community work and benefit from our sharing of resources.

We value using consensus for making community decisions, sharing work and social activities, and cooperating on various neighborhood projects with our surrounding neighbors.

To learn more about cohousing communities in general, you can visit the web site of the Cohousing Association of the United States.

Our Vision

Our vision is to create and sustain an urban community for 27 households in the Jackson Place neighborhood of Seattle. Our goal is to create an environment that nourishes a vibrant, meaningful life for every member, "providing individuals and families with what they need from a private point of view while allowing them to get what they want from a community point of view."

The physical design of our community is intended to maximize our open, green space and to provide desirable, efficient and economical living spaces for all our residents. Dense building clusters consisting of townhouses and flats surround a central commons, with a Common House and underground parking at one end. Our Common House includes community kitchen and dining hall, laundry and storage facilities, child play areas, office, and meeting space, and we will include other spaces and amenities as we are able.

Individual units are condominiums, owned and occupied by residents, with the land held in common. We consider ourselves stewards of our land and use our common areas and possessions with care and consideration for each other. We are committed to reducing consumption and conserving natural resources, using ecologically sound maintenance practices and building materials where possible. We share goods and resources, such as tools, transportation, child care, community-supported agriculture, and common meals.

As the residents, we are the designers, developers, and caretakers of our community. Community work is shared by all residents, and we gather in regular meetings to shape our direction and growth. We are committed to a consensus decision-making process. We strive to create an atmosphere of cooperation and goodwill where everyone is willing to lend a helping hand. We choose to develop relationships with each other based on mutual respect, trust, and honest communication. We agree to explore and to resolve, to the best of our ability, the inevitable conflicts and misunderstandings that occur between people living in community.

We accept each person as a unique individual and value the strength of diverse perspectives, backgrounds, and experience. We treat every person in the community with courtesy and respect. Children are valued as full members and are included in the daily life of the community. We encourage gatherings to celebrate events such as birthdays, anniversaries, holidays, and the life of the community. We support and are sensitive to members' individual needs and preferences for connection and relationship, and for privacy and solitude. We try to accommodate dietary considerations of our members at our common meals. Our members manage their pets' activities so they are good neighbors too.

We are involved with our neighbors and the surrounding community, and we create opportunities to contribute to their well-being. We choose to be a positive force in the life of the city, revitalizing the land on which we have chosen to build our community, and creating a safe urban environment for ourselves, our children, and future generations.
Openings
Currently there aren't any unit owners selling their unit.

Currently there aren't any owners renting their unit, nor a room within their unit.

For more information about the community, review our Vision Statement and contact Sylvie: info@jacksonplacecohousing.org
Contact Us
GENERAL CONTACT

Sylvie: info@jacksonplacecohousing.org

FINANCIAL AND LEGAL

Questions or requests regarding the Condominium Association should be sent to the Board Secretary: secretary@jacksonplacecohousing.org

ADDRESS
Jackson Place Cohousing Association
800 Hiawatha Place South
Seattle, WA 98144

We are located one block east of Rainier Ave S at S Dearborn St. For events in the Common House, enter through the terrace off the alley from Dearborn.